Guatemalan fresh and frozen mangoes, papayas and bananas in Berlin, Germany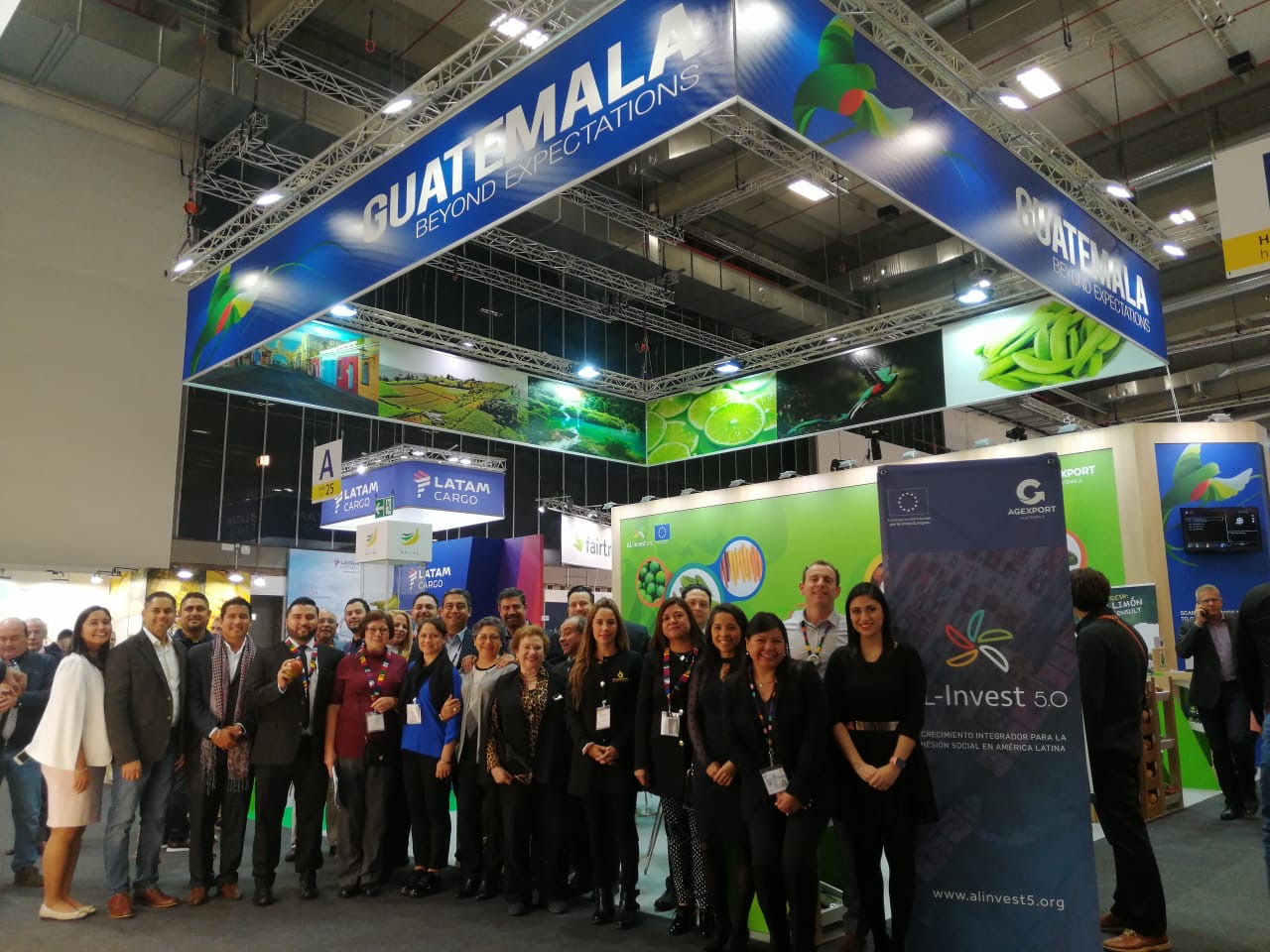 Buyers from the United Kingdom, France, Germany, Italy, Spain, Asia and North America learned about Guatemalan agriculture exports during the three days of Fruit Logistica. A delegation of Guatemalan agriculture companies participated at Guatemala's "Beyond Expectations" pavilion at this event to display its products to European buyers, the third main destination for Guatemalan products. Europe represents a market that buys more than US$3.5 billion yearly, figure that grew 5.2% in 2019.
As part of our marketing strategy in Europe, participating in Fruit Logistica is key. For 11 consecutive years we have attended this event, one of the most important for agriculture companies. This year, we added to our "Guatemala Beyond Expectations" pavilion different products like fresh and frozen mangoes, papayas, plantains and bananas, which were added to the 25 products that we have displayed in previous years; said Mr. Luis Teo, Vice-President of AGEXPORT's AGRITRADE Platform.
Along with the products mentioned above, Guatemala also displayed other agriculture products like snow and green peas, string beans, mini carrots, baby corn, zucchinis, patty pan, Brussel sprouts, baby broccolis, baby lettuce, blackberries, limes (fresh and dehydrated), pineapple, grapefruit, sweet potatoes, pitayas, avocados, rambutan, among others.
All our agriculture products were exhibited on a 1,185 sq. ft. pavilion located strategically on the Latin American Hall near the main entrance of the fair. We were able to secure this location due to the efforts of AGEXPORT, the Guatemalan-German Chamber of Commerce, the European Union's Al-Invest 4.0 program and the Centre for the Promotion of Imports from Developing Countries of the Netherlands, remarked Mr. Teo.
Fruits and vegetables exhibited at Fruit Logistica were grown in different areas of the Guatemalan highlands and eastern departments. Companies represented at the event included Amadeo Export, Det Pon, Ixin Quesal, DFT, UniSpice, Sweet Willy, El Rachman, Frutesa, San Juan Agroexport, Cooperativa Magdalenta, Tres Marías, Don Limón and AGEXPORT's Peas and Vegetables Committee.
Fruit Logistica is one of the important international fairs, which takes plays yearly in Berlin, Germany. It offers an exhibition floor of 1.5 million sq. ft. to host more than 3,000 companies from all over the world. As such, it allows Guatemala to connect directly with key potential buyers. The Guatemalan-German Chamber of Commerce, represented locally by Messe Berlin, says that 94.6% of all companies attending the event think that Fruit Logistica is the ideal scenario to display agriculture products. Because of this, Guatemala has an ideal opportunity to increase its client portfolio by attending this event; said Mrs. Kristhal Galdámez, CEO of the Guatemalan German Chamber of Commerce.